The world has been waiting for a Brinsley Forde album and this is well worth the wait.
Former child TV star and Aswad singer Brinsley Forde has kept a solo album in gestation with Sly and Robbie for several years with no release date in sight. Now that project has been overtaken in the slow race to deliver a Brinsley longplayer by the highly-touted Dutch double-team of Jahsolidrock and Not Easy At All Productions. It's an album of which all involved can be proud.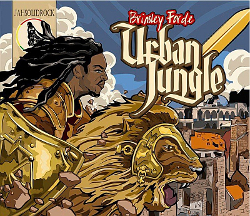 Unlike April's Chezidek outing by Jahsolidrock and House of Riddim, 'Urban Jungle' returns to the familiar Not Easy At All sound. Crafted by Marc Baronner and mixed by Manu Genius it is organic but glossily produced with smooth horns and vast choral backing vocals. Ironically, on past releases these backups had a tendency to recall the 80s recordings of another of Britain's legendary experimental reggae outfits – Steel Pulse. This time fluid voiced Pulse singer David Hinds is actually present – serving up one of his vintage eye witness accounts of slavery's cultural erosion on duet Chillin'. The results can sound like the fan fantasy combination of Brinsley singing lead in his old group's major rival band.
Read more…