The Original Gorgon singer travels to far flung places
Cornel Campbell has always dropped one certified cracker of an album on to the pile this year with the coolly haunting deep roots sounds of the Zion I Kings production 'New Scroll'. His second takes him to a road less travelled: the eddying swooping Afrobeat dub and soul infusions of London's fiercely consistent revolving door collective Soothsayers.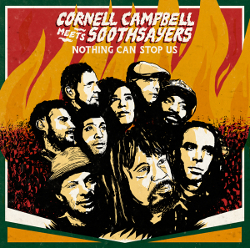 'Nothing Can Stop Us' is the latest in Strut Records collaborative Inspiration Information series (the title a nod to psychedelic progressive soul guitarist Shuggie Otis – whose touring band were in attendance at the London Launch of Soothsayers last longplayer 'Human Nature'). Putting Cornel's vanilla-ice-cream-sweet voice to a mixture of new Soothsayers rhythms and older ones from 'Human Nature' and previous albums, it's a different more daring animal from 'New Scroll'. Yet a few listens will fulfil its promise to be good to your earhole.
This is a soulful, lighter side to Cornel than on Scroll replete with cascading Sam Cooke style "ta-ta-ta's" and "whoa-oa-oa's". Lyrically his messages are still of peace and guidance. The fiery warmth of the music spans the spectrum from traditional one drop to the Afrobeat-meets reggae end of Soothsayer's repertoire – as if they anticipated Cornel was bringing out a straight roots record elsewhere.
Standouts include the 50/50 Afrobeat/dub fusion of hymn to righteous detachment It's Not For Me (using the rhythm to It's Not Easy from 'Human Nature') and the guiding words and hallowed harmonies of Ode To Joy. There's also a variation on Cornel's classic Jah Jah Me No Born Yah, which Campbell and the band have been playing out live, and comes with a quizzical dub.
Read more…