Cornel has delivered a late career classic and Zion I Kings have done it again.
Since Cornel Campbell's sweet soaring voice first graced a record in 1956 aged just 11, he has sometimes supplemented his income from non-musical sources. But he's been busy at the music of late – working with younger international bands and production houses.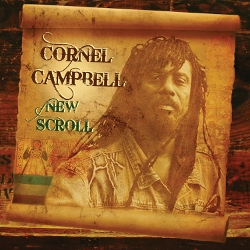 He's put out an EP with Israel's Zvuloon Dub system and has an Afrobeat-meets-dub album about to drop alongside the UK's Soothsayers in July. Before that though, he's completed this 9 vocal, 4 dub longplayer for old friends Zion High Productions/Zion I Kings – showcasing Cornel the cultural singer, who voiced the likes of Two Face Rasta for Bunny Lee and African Woman for Garfield Potter's short-lived Ultrasonic label.
In keeping with the ancient revival implied by its title, 'New Scroll' is very much a deep roots meditation. Where the yet-to-be-released Soothsayers project gives focus to the lighter side of Campbell's singing, with nods to Sam Cooke, Scroll harks to the days when Cornel's vanilla ice-cream tones would starkly contrast with powerful minor key backdrops. Cornel may sing in a lower register than his heyday yet the magic is still there. You can hear him smack his lips before each verse – which somehow makes the whole thing seem more real.
Read more…