A historical artefact from an album-under-represented artist.
Errol Bellot is one of the UK's most consistent and captivating roots reggae singers. Over 30 years he has voiced haunting hard-hitting singles for labels such as East London's S&G and Jah Tubbys, and more recently Reading's Reality Shock.
For various reasons, Errol did not put out a full length album until 2012. However, as demonstrated this welcome release by Reggae Archive Records – a wider arm of Mike Darby's Bristol Archive Records – he did have at least one crucial LP project in the works back in the 1980s that never saw the light of day.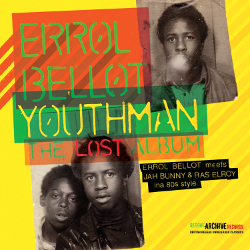 'Youthman' was produced and arranged between 1983 and 1985 by two cream musicians of the era – drummer Lloyd "Jah Bunny" Donaldson of Matumbi and bassist Ras Elroy Bailey of Black Slate. 16 tracks have been selected from the masters by Archive, with some stitching of vocals to dubs by Dave Hill (of London's Rootikal night and label) at the Essex studio of Conscious Sounds' Dougie Wardrop. One composition external to the original tapes has been added, Errol's self-produced The Wicked Dem – which seems slightly cleaner than the rest. It heads up a 17-strong showcase that reggae historians won't want to miss.
As per Bristol Archive Records previous work with Black Roots, we are reminded despite the sound system mc revolution going on in the UK at the time, roots music was still in play. Yet this roots music was not untouched by what was coming over via sound-tapes from the dancehalls of Jamaica. The album starts off with bottom-heavy deliberate minor key rhythms in the Roots Radics template. Errol explains that he is a Rootsman devoted to clean living and good diet. The sole love song requests Errol and a lady come and Reason and Chat through serious matters.
Read more…