"Music is a fantasy. Like having an affair without upsetting people. Or a horror film where no one dies"
"You weren't followed here?" asks, engineer, entrepreneur and natural mystique-creator Mike Penlanconi AKA Prince Fatty as we enter his hermetically sealed inner chamber, "My competitors have spies in the area". He's joking, but his studio The Ironworks in Brighton, England's "London by the sea" is not well advertised to the uninitiated. It's an unassuming building on a street of industrial and commercial space – its location only suggested by a large mural for his last, martial arts themed album, 'Prince Fatty Versus The Drunken Gambler' on a nearby corner. The art was sprayed by a graffiti friend Jake who does the covers to Fatty's retro yet refreshingly irreverent series of ensemble reggae albums – 2007 debut 'Survival of the Fattest', 2010's 'Supersize Me', 2011's 'Return of Gringo' and 'Drunken Gambler'. On the sonic side, all four combine a remarkable ear for recreating the sounds of 70s reggae in a bouncily uptempo fashion without a trace of the boringly respectful hagiography you find in some roots music made on the continent. The same applies to collaborations with artists like Little Roy (the daring Nirvana covers collection 'Battle For Seattle') and Hollie Cook, daughter of Paul Cook from the Sex Pistols, who is with him today as they put the final touches to her second album. Deejay and drummer Horseman is due to arrive later but never shows.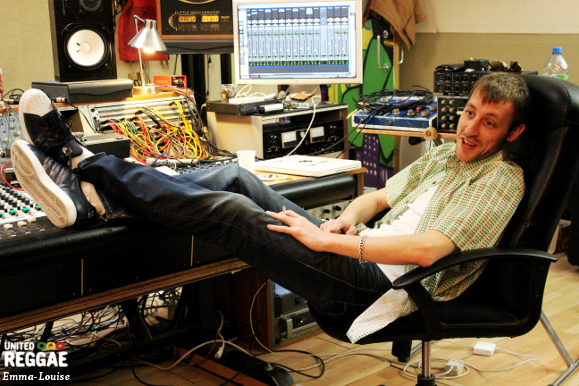 The first room of his studio complex is a private club with its own impressive sound system – including ceiling speakers – that hosts parties on a "strictly random" basis. "Sorry about the mess" he says of some post revelry rubble ("We had a party for his birthday a couple of weeks back" Hollie adds.) We then file into the main room, filled with salvaged vintage ex BBC equipment, some units going back to 1952. Fatty paid for the space with a major label advance (his pre reggae production and engineering credits include pop stars like Lily Allen, hip hop artists Tribe Called Quest and the Pharcyde, and a stint at legendary London imprint Acid Jazz). There are photographs of Miles Davis, Bob Marley and Stevie Wonder, and a signed photo from Ike Turner next to one of Studio 1 veteran Winston Francis ("Good and evil" quips Fatty).
He has asked us here to talk about his plans to start his own subscription based label, having left longstanding associates Mr Bongo Records. He also wants to preview tracks from his forthcoming album with Francis – which he is financing direct via fan fund site PledgeMusic. We hear a dubby relick of Ten Times Sweeter than You with naturally sweetened harmonies by Winston and George Dekker of the Pioneers. Fatty turns up the delay on the familiar "Huuuuuuuuuuuuu" of Big Youth for a recut of Cool Breeze/Stop That Train featuring characterful lead guitar by "a local guy named Max" and worryingly exact replica backup vocals. Of course, there's a retread of Let's Go To Zion. "I had to do these" he says of the old material "I am a fan and Winston's catalogue is spread all over. But we're gonna do new and obscure tunes. Lick over a couple of soul tunes. Max Romeo says he might get involved". He describes Winston, who is away doing live PAs with Chris Peckings, as "My favourite male singer. He's not like other singers. There's a fine line between loving yourself too much. He doesn't care. He's King Cool".
Read more…