"We had friends who were taking LSD and going mad"
In the third in our series of interviews with reformed foundation UK bands, United Reggae caught up with Wolverhampton's Capital Letters. (Check previous chats with Reggae Regulars and Black Roots)
Assembled in 1972 by young Jamaican emigrants to the Black Country city, the group comprised Roderick "the Dude" Harvey (drums), Junior "JB" Brown (bass), George "Bulk" Scarlet (guitar), Earl "Wizard" Lynch (keyboard, vocals), Danny "Teacher" McKen (guitar/vocals), and Wenty "Country" Stewart (percussion/vocals). They would later be joined by backing vocalists Pauline Spence and Paulette Hatden, along with sometime guitarist/singer Springy.
The smashing drums, gritty guitar and frank lyrics of breakout song Smoking My Ganja were too hot for many reggae labels of the time, yet caught the attention of newly-founded Greensleeves and the BBC's John Peel. The collective cut two albums, 1979's Headline News and 1982's restricted German release Vinyard, before breaking up in 1985.
Like their contemporaries, Reggae Regulars and Black Roots, Capital Letters have now returned. Similarly to the Regulars, a schism in the 80s – between bassist JB Brown and the remainder – means that two versions of Capital Letters are doing the rounds. The majority of the members are still affiliated with Greensleeves (who reissued Vinyard in June 2015). Meanwhile Brown has his own ensemble signed to Bristol's Sugar Shack Records (putting out the enhanced 80s compilation Reality and new studio albumWolverhampton).
Angus Taylor reasoned with Country, percussionist of the Greensleeves unit. He spoke frankly, in true West Midlands style, about the history of the band, the split, their support for Idi Amin, and why the original cut of Smoking My Ganja was far rootsier than the one Greensleeves chose…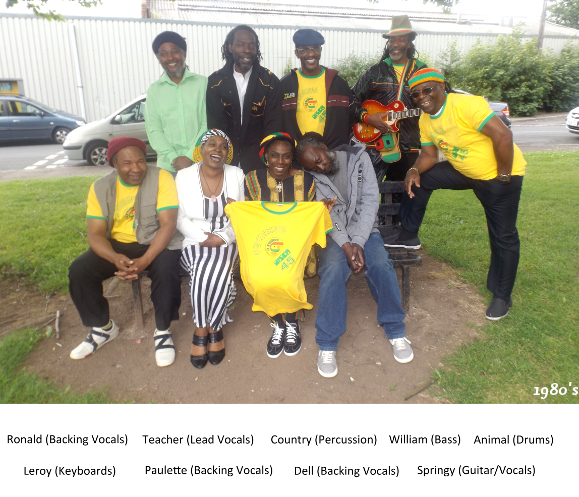 What was your first experience of music in Jamaica?
It was good. My first music experience was listening to Marley, Prince Buster, Desmond Dekker. All the old time school. King Tubby, the full works.
How did you listen in those days?
We used a thing called Delco for our light switches. Now they call it Delco but in those days it was "generator". You'd turn it on and it would run all night with engine oil and then the sound would plug into it and we'd have a street dance. Because we didn't have any lights as such, apart from the generator. That's what we used to do.
Which sounds did you listen to in Jamaica?
King Tubby, Jack Ruby. I used to listen to all of them. Those were the main sounds in Jamaica who were going round the country to the villages to play. It was good then.
When did you come over from Jamaica? Your parents came over for a better life?
I came over in September 1967. They came over to work and live for a better life. I was a youngster then and my dad come over here to work, then he sent for my mum and then he sent for all of us as kids. And we've been here since.
What was Wolverhampton like at the time?
It was skinhead time. Skinheads was what was going on then. And a lot of paki bashing.
So you encountered racism quite quickly?
Very quickly and very deeply. My first experience of racism was when I left school. I couldn't get a job. I was going for mechanic or welding. The minute you got to the gate they closed the gate and said "No job". You didn't even see the manager. You only saw the gate man. It was rough. I did get a welding and a mechanic job but it never lasted.
What was the sound system scene like in Wolverhampton in the sixties?
There was a sound called Duke Neville, one called Quaker City, one called Studio Fire and one called Jahman Sound. At the time there were quite a few little sounds coming up. The biggest sound was Sir Christopher and then Quaker City. They were playing in nightclubs and halls. We used to have a Cultural Centre in Wolverhampton and they used to play there on the weekend – Friday and Saturday.
How did you start making music?
A friend of mine used to live across the road and his dad was a pastor. We called him Pastor Dean. All of us used to go to church and one day his son approached me and said he was trying form a band and I should go and get myself a drum. But my neighbour across the road which was the drummer, Dude, he said he will get the drum and I could get the percussion which was the bongos. My first pay packet was £11.50 and I paid £11 for the drum. I brought home 50 pence. I have to bring my wages home every night since(laughs). That was how the band started.