On Clinton Fearon's eighth solo album 'Mi Deh Yah' (2010) during the song Rock And A Hard Place he sings "Coming from the country with my little guitar, I find myself between a rock and hard place". It's a line that sums up the situation for a lot of reggae artists in the so-called golden age, coming to Kingston, new to the business, with dreams of being on the radio. But Clinton's story is more specific. Born and raised in the hills of Jamaica, when he was 10 years old he built his own tools and carved his first guitar out of a cedar trunk, using the teeth of a fork to make the frets and even making chisels out of flattened nails. Arriving in the Jamaican capital in the late 60s he and two friends, Vin and Neville, formed a harmony trio called the Brothers. They shopped their music around to the big independent studios like Studio 1 and Treasure Isle without success until by chance, Errol Grandison of the Gladiators heard Clinton strumming and singing at his house, knocked at the door and asked him if he wanted to join him and Albert Griffiths in their group.
Two decades of reggae history later, Clinton decided he had had enough and relocated to Seattle, Washington, where he began releasing his own albums with his Boogie Brown Band, hitting what would become a signature sound, having linked with his lady engineer of choice, Mel Detmer for 2004's masterpiece, 'Give and Take'. Today his self-made original guitar is proudly owned by one of his school teachers in Jamaica – displayed as an example of what pupils can achieve if they put their mind to it. Angus Taylor spoke to Clinton while he was in France with his wife Catherine to promote his ninth album, 'Heart and Soul', an acoustic set of Gladiators covers, out now…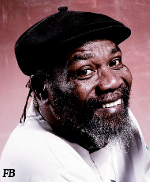 Your last album Mi Deh Yah was saying "I'm here" – it seemed like a statement about where you are in the present. You are revisiting your past on new acoustic album Heart and Soul – is that fair to say?
It's fair to say that I was saying "I'm here" – meaning "I'm going nowhere", I'm here in the present. And this one, going back, is a totally different concept. What happened with those songs is basically a lot of people call me "Bassie" instead of Clinton and I wanted to clear that up! (laughs) Because I'm not just a bass player. I consider myself a poet and a singer as well. So I wanted to clear that up and in the same breath spell it out that sometimes a good song gets hidden by the plentiful instrumentation and electric devices and things like that. Sometimes the message gets hidden within the instrumentation. That's why on this one I tried to make the vocal and the lyrics at the forefront.
Read more…