On Sunday 25th September Camden's folkloric Dingwalls club was rammed. The tiny Dingwalls stage was rammed too as Prince Alla shared a bill with old producer Tappa Zukie backed by the fullsome arrangements of the Well Bless band. In an exemplary display of cross-capital solidarity London's reggae community turned out in force for the occasion – including industry giants such as Bunny Lee, Niney, Dr Alimantado, Little Roy, Mikey Brooks, Dennis Alcapone, Afrikan Simba, Nereus Joseph, Prince Malachi, and many more. Jah Youth had strung up their sound and Asher G played a niche roots selection before the show. But just as important a draw was the first marquee live appearance in London by the smoky roots chanter Daweh Congo. Angus Taylor caught up with him at the soundcheck to discuss his works…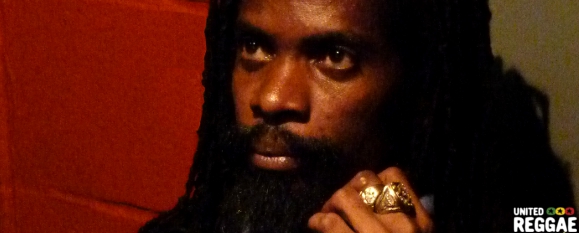 Is this your first time playing London?
Yes although I did a cameo one time. I don't remember where it was. I went there and the people said they didn't bring any rhythms, but I had one rhythm because at the time I was doing a song. I was doing a song called Fi Years (sings) "Fi years an years, we been trying for years an years" and the crowd went wild and then they said "We want more!" and the was no rhythm track! So what I did was, someone shouted in the audience "Love is real!". That was from my first album Militancy from 1996. So I just did that a cappella (sings) "Woman of my dreams, the love I have for you's real, so very real" and the people liked it. I hope they like this one! That was back in 1999, in the summer I think it was. But I was really here to do an album for JetStar in 1999 – Guidance. I came back in 2003 and did an album Health and Strength. Now I'm here to do a full-fledged performance and I'm liking it!
Your last album release was Ghetto Skyline. Tell me about how you decided to work with Swedish producer Jonah Gold.
I actually was booked for a show in Sweden. It was Uppsala music festival, the promoter was Yared Tekeste, an Ethiopian from there. He took me two tracks that Jonah Gold had given him and said "Could you have Daweh listen to these two?" So I listened to them and I was ready when I went there for the performance in 2004 in the summer. So after the performance I went to Stockholm with Jonah Gold and recorded those two. I went back to Jamaica and he sent me loads of tracks, and I just did like 10 more tracks and sent them to him.
Read more…