Reading's Trevor "Deadly Hunta" Samuels is one of the UK's most respected mcs. After apprenticing on the African Roots and Sky Juice sound systems, an encounter with Bobby Digital on a trip to Jamaica encouraged the young Samuels to improve his craft, choosing the name Deadly Hunta in honour of his idol Bounty Killa. His ear-grabbing Bounty-inspired delivery has brought him hits in the hip hop, reggae, dancehall and jungle spheres over the last decade. Yet despite show after show across Europe and beyond, Deadly is only now ready to drop his debut album, 'Speak My Mind' produced by Reading's own Catch 22 productions. Angus Taylor spent a sunny evening in Hunta's back garden, talking about his music, his increasingly conscious direction with Reality Shock records and how his talents run in the family…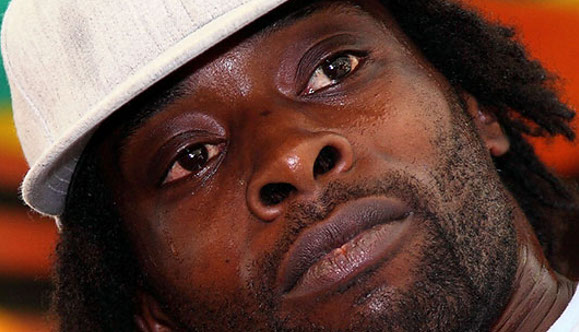 Reggae is a big component of what you do. I presume you grew up with it in the house?
Yes, my dad is from Jamaica and grew up in Jones Town, which is connected to Trench Town where Bob Marley came from. He's about the same age as well so he tells me stories of the first sound systems, the first sound systems with microphones, about how the sound systems were listening to the American soul before the reggae came in. So I got a good history from my dad. Since being a child the rhythm of reggae music has always been going through me because he was always a man who was a record collector and had a good sound system. Many times late at night I'd be in my bed hearing the bass coming through the ceiling so I was brought up with reggae and it's in me naturally!
A lot of UK artists who grew up with reggae in the house talk about a period of rebellion against it. Was it like that for you?
I don't think it was a direct rebellion against it. It was just like you grew up with and that was mum and dad's kind of music! When I was about fifteen or sixteen it was about 1989 and the deejaying style was a new thing so we wanted to be into that side of it. We always respected Bob Marley and Burning Spear and all those guys our parents were playing but it wasn't the time for that then! When you're doing your own thing you kind of put your head into it and then, when you get a chance to take a breath and see what's going on, you start embracing that side again because the music you're listening to comes from that as well.
Read more…