Derajah Mamby was born in East Kingston in Rollington Town but moved back and forth between the two sides of the capital, spending some of his formative years on the musical hotspot (immortalized by Bim Sherman in song) Chancery Lane. His father was a Rastafarian while his mother was a church-going Christian, an upbringing which not only allowed the young Derajah an equal amount of exposure to both secular and sacred music but also provided a supportive environment of acceptance to follow his own spiritual path. Recorded and encouraged by Sugar Minott in the early 2000s his first real break came when he was introduced to Earl Chinna Smith and joined the legendary guitarist's acoustic collective Inna De Yard. The group's releases through French label Makasound gave Derajah a profile in France, helped by the release of the David Commeillas documentary 'Natural Mystic Reggae' where he sang My Sister, the harrowing tale of his sister's murder by gunmen. In 2007 he linked up with the French backing band Donkey Jaw Bone and began work on his debut album, 'Paris Is Burning', whose issue was postponed when Makasound went into administration. The record, cut at Donkey Jaw Bone's analogue-only studio in Paris represents a unique blending of different eras of roots music. Angus Taylor spoke to Derajah as he was preparing for its eagerly anticipated release on the label that rose from Makasound's ashes, Chapter Two.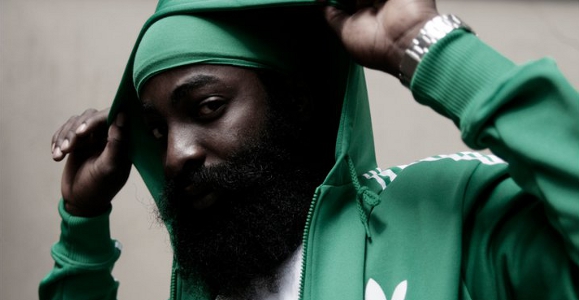 When you were young did you want to be a deejay or a singer?
When I was young I didn't know where in the music I wanted to be, I just knew I wanted to be a part of it. The sound system coming out and playing, the fashion and the style and the people, them coming out for the dance. Even if it was being in producing or involved in promotion. I was just wanting to be a part of all of that. I can remember recording my first song in my house. I had a recorder and a tape player, a music box. So I'd take my tape inside the bathroom and I'd put a cassette inside the tape player and play the rhythm from the tape and then the recorder that I had, I'd capture everything on it. That was my first recording before going into studio. I got a reverb sound and everything coming back and when I was listening to it I was like "Oh, this is amazing. I need to take this further, I need to go in a studio with this".
How did you link with Chinna and join Inna De Yard?
I was living downtown on Chancery Lane. My brethren used to work in Augustus Pablo's record shop and Augustus Pablo's brother, his name is Garth, he's a good friend of mine. Sometimes I would go to the record shop and freestyle while my friend played the version in the shop and me and him would vibe and thing. One day my brethren came by and said to me "Derajah, I need to take you to meet one of my brethren, a good musician. He played with Bob Marley and he played with all the legends, the great singers." So we left and went straight to Chinna Smith's yard where he was playing music on his veranda. He was playing the type of music that I wanted to hear. As I heard his guitar play I started to sing and everything was so connected because he was going deeper inside of what he was doing and I was going even more higher in what I was singing and I noticed that tears were running from my eyes and I'm like "Wow! This moment is magical!" The rest is history. It all started right there.
Read more…