Gabriel Calcott is a producer from Christchurch, New Zealand, where he runs Reality Chant productions, whose rhythms are fast making a name for themselves all around the world. Since the day he was born he was exposed to reggae music from his parents' record store, working there from age sixteen. Realizing the life of a record store worker involves the daily pain of seeing choice platters pass into the hands of your customers, the young Gabriel shrewdly took advantage of the lack of demand for rare vintage reggae in Christchurch and much of the second-hand stock went straight in to his own crate! Around the same time he became a selector and, in 2000, started his own Dubwize sound system and production house with friend and musical collaborator Confucius. Their first album 'Dubwize Meets Confucius At The Control Tower' was released in 2002 and featured vocals from one Papa Levi (not Phillip Papa Levi the Saxon mc) and a Maori chanter named LittleJah. Their next long-player was 2003's locally massive 'Dubwise Reality Chant', which boasted international voice talent in the form of London-based Montserrat-born Raggadon and the Nigerian Iya Far'I – both of whom encouraged Calcott in his growing Rastafarian faith. Gabriel then started his Reality Chant label in 2007, which has issued an album by Papa Levi – retitled Sniper Levi – as well as big rhythms such as Country Living, Nah Bow Down and Fire I Blaze (the latter two being relicks of old Dubwize backings) ridden by Luciano, Natty King, Hi Kee, Deadly Hunta and many more. Just as our interview began a minor tremor shook the studio, warning of the tragic earthquake that would devastate Christchurch exactly one month later. Fortunately, Gabriel was out of the country at the time, but our thoughts are with all those who have suffered since then.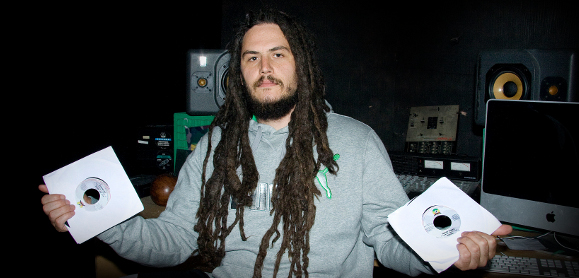 Your studio is outside of the city of Christchurch, right near the beach. How does your environment inform your music, and what is a typical day?
I can't stand city life. I have to be semi out of Babylon to function. I look out of my window and see the hills and it's important for my creative process to be in an irie space. I do music full time so every day I'm in the studio. Reality Chant is still me and Confucius – between the two of us we can build a whole rhythm. I'm a Nyabinghi drummer so in all my rhythms you'll hear the heartbeat. I'll lay down the drums then I'll take it to his studio round the corner where he's got a wicked Midi setup and we lay down guitars, bass, keyboards. He plays melodica and flute and all types of things. Then I'll take it back to mine and do any overdubs, bring in a trumpet player and do the mixing and post production. We've got a really tight system and can put down a rhythm in about 3 hours.
Read more…