Beyond the odd solitary man with a guitar singing No Woman No Cry reggae is rarely heard live in a train station. But on Monday April 23rd that's exactly where Sex Pistol daughter and neo lovers rock star Hollie Cook could be found performing with producer engineer Prince Fatty and deejay Horseman as part of St Pancras rail and Eurostar terminal's Station Sessions festival series (the week before saw an appearance from visiting Jamaican artist Josie Mel). As embarkees from France went in search of home comforts like UHT milk and a cold beer they were treated to Hollie and Fatty's serene dubby musings: Milk and Honey, Body Beat, I've Got Your Money (complete with flashed wads of notes as props) and covers of the Whispers And The Beat Goes On and Andrew Sisters For Me You Are. Perhaps unsurprisingly given the importance of clear passenger announcements the acoustics were pretty good. Hollie's parents Pistols drummer Paul and nutritionist Jennie were also in attendance. Bereft of proper questions, Angus Taylor scored a quick impromptu interview with Hollie, Fatty and Horseman post performance. Thanks to Mel Ruben for making this chat possible.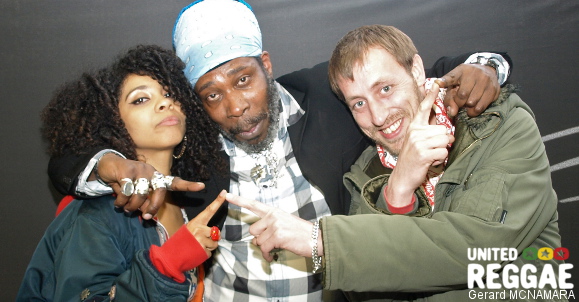 How was performing in a train station? Have you done that before?
PRINCE FATTY: No, but you know what? It was a lot of fun. After the initial few seconds where you're just getting it all together then it's nice.
HOLLIE: It was really weird but in a good way! I felt like a busker and that's a good thing.
HORSEMAN: It was different. Like Hollie said it was like busking. It was nice.
HOLLIE: I did a small amount of busking in my teenage years. It's sort of like passing trade, isn't it? It's cool to see people stop and pay attention.
Read more…