"The next album is already done. I just have to fix the date to put it out"
On 2nd July New Zealand reggae ambassadors Katchafire played the first of two consecutive dates at London's Garage in Highbury supported by Australia's Blue King Brown. Added at the last minute to the bill were Senegalese singer Meta Dia and his internationally peopled group the Cornerstones – whose second album 'Ancient Power' has been trumpeted by critics as one of the best of 2013 so far. With no headline date in London included on Meta's European tour (all too typical of European reggae tours in general) United Reggae had to see this man in action. Little did we know we would get to meet him as well…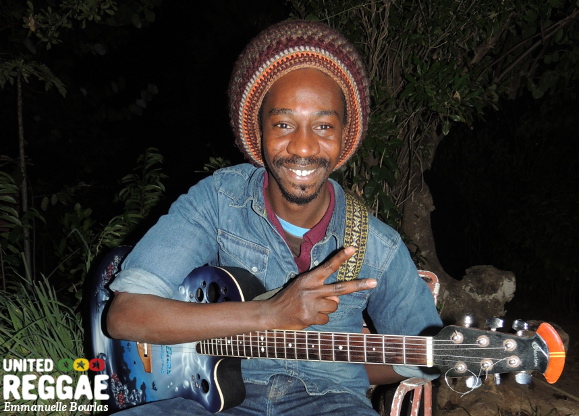 The drum and the bass are the cornerstone of the live reggae experience. Yet despite being unknown to the largely Antipodean London crowd, Meta could be found holding the room enraptured using a band with no rhythm section – only guitarists Shahar Mintz and Daniel Serrato plus Aya Kato on keyboards.
It is another truism that you haven't really appreciated reggae's great modern voices such as Jah Cure and Tarrus Riley until you've heard them in person – free of digital eq-ing and compression. Meta definitely fits into that elite category. A concert encounter with his sweetly complex timbre – think Bob Marley's Survival era in broken-grain tone and Peter Morgan of Morgan Heritage in range – should send you scurrying back to his records with a greater appreciation thereafter.
Backstage after the show, dwarfed by his huge tam, the lanky, ever-smiling Meta seems as surprised to be here as we are. He decided to stop over having finished the Afro Latino Festival in Belgium while en route to the Montreal Jazz Festival in Canada.
"We're just doing a pass through" he says in clear but not fluent English "It's a last minute thing that we knew about it. We heard through Blue King Brown who are cool friends of ours. We wanted to experience the people and coming to London. So we decided "Why not come and do a little jam? Let's cross here and after head to Canada"."
"This is my first time in London. Definitely very good but I wish I could come with the whole band."
Unfortunately, again, all too typically for reggae artists coming to the UK, Visa issues meant bassist Rupert Mackenzie and drummer Wayne Fletcher were stopped at the border. But Meta is used to performing in front of strange audiences and making the best of what he has to hand. At age 14 he was a street performer in his birth city of Dakar.
"In Senegal I started as a rapper on the streets so I used to play in the middle of the streets and people would circle around us and we would be there exchanging the vibes rapping. It was only when I moved to the US that was when I started playing guitar and singing."
Musicologists have attempted to trace the West African roots of the reggae rhythm. Suggestions include the Yankhadi rhythm from Guinea. But for Meta reggae was just something that was around growing up in the diverse culture of Dakar.
"Senegal plays lots of kinds of music like Salsa, Merengue, Samba and Mbalax which is our national music. And we also got to hold all the music that comes from the US. I pretty much grew up listening to my mum playing a lot of Gregory Isaacs and Bob Marley."
Read more…