Anyone who's heard a recent Greensleeves compilation will be familiar with the British band and harmony group who went by a bewildering variety of names in the late 70s and early 80s but today call themselves Reggae Regular. Formed in South London in 1976 the seven piece, comprising Alan King and Tony Rookwood (vocals), George 'Flee' Clarke (keyboards), Trevor Salmon (bass), Patrick Donegan (rhythm guitar), Norman Ebanks (lead guitar) and Errol Francis (drums) started getting attention for their live shows (sometimes backing the likes of the Morwells and 15-16-17).
A change of management from Castro Brown to Lloyd Patten resulted in a deal with Chris Cracknell at the newly founded Greensleeves and their first 12″ Where Is Jah? credited to Reggae Regular (the name of a local live showcase) being released under the catalogue number GRED001 and hitting the Reggae top ten chart in February 1978. Their follow-up Black Star Liner hit number one and by the following year the group, taking the moniker The Regulars, were signed to CBS records. Their debut album 'Victim' mixed roots and lovers reggae with jazz fusion and soul styles but relations broke down during their European tour, with King, Rookwood, Clarke and Ebanks leaving to record what is popularly believed to be the sequel, the slower, deeply Rastafarian 'I & I' (1980). Meanwhile Donegan and Salmon recruited keyboardist Bryan Campbell and cut the single Jah Love for Greensleeves in 1981 as the Rebel Regulars creating their second longplayer (or third depending on where you stand!) 'Ghetto Rock' as Reggae Regular again in 1984 at the Mad Professor's Ariwa studio.
Unpicking such a complicated history is no easy task, but fortunately various members reformed in 2009, releasing a comeback album 'If Only' in October 2011. It features fresh material and recuts of old songs (including Black Star Liner in combination with Tippa Irie, who the group backed on his pop charting 1984 hit Hello Darling). George 'Flee' Clarke, Bryan Campbell, Patrick Donegan and new lead singer Patrick 'Dego' Johnson of the 1990s outfit Private Collection met Angus Taylor at London's Barbican centre to discuss their complex career. (As the history of the band is not well known we have chosen to edit this as little as possible).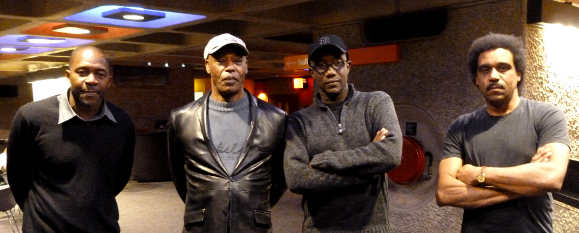 Tell me about how the band originally formed in 1976-7.
George 'Flee' Clarke: The bass player then, Trevor and the drummer, and the singer, Alan, they were doing some original stuff, not reggae. I went down there to play some keyboards. In between in the breaks we used to play like Mighty Diamonds stuff, and Tony, the original vocalist, I just thought he was so good and I said he should do the vocals, they never liked it but that's how it went, he ended up doing the vocals and then from there we got Patrick. Patrick came in and that was it.
Read more…