Robbie Shakespeare is one of reggae's bass masters and one half of its most prolific and successful rhythm section – Sly & Robbie. Raised in East Kingston, his family home was a rehearsal and hangout spot for a variety of upcoming musicians and singers. Picking up the guitar first, he gravitated to the bass having been inspired by the music of Jackie Jackson of Treasure Isle and the guidance of Aston "Familyman" Barrett. When Barrett became the anchor of the Wailers, Robbie joined his old band the Hippy Boys, even stepping in to lay some crucial bass-parts for the songs Concrete Jungle and Stir It Up on the album 'Catch A Fire'.
A busy session man by the mid 70s Robbie found his ideal match in Sly: who he brought into Bunny Lee's house players the Aggrovators and into Peter Tosh's Word Sound Power band. Having ascended from a residence at the mighty Channel One studio via their own Taxi label to reggae's first major rhythm section production house – setting the tone for Steely and Clevie and Mafia and Fluxy – the duo became Chris Blackwell's musical handymen of choice, backing Grace Jones, Bob Dylan, Joe Cocker and Gwen Guthrie. Their forward thinking has seen continued success in dancehall, movie soundtracks and even video games.
United Reggae reached out to the Riddim Twins Drumbar and Basspeare as they were about to team up with fellow legends Ernest Ranglin and Monty Alexander for a summer tour of Europe. As deep as his basslines, Robbie seldom grants interviews, letting his erudite and verbose partner Sly do most of the talking. So it was an honour for Angus Taylor to speak to the great man about his music as well as his love of food, film, and the things that make him laugh, discovering the half of Sly & Robbie that has only rarely been told…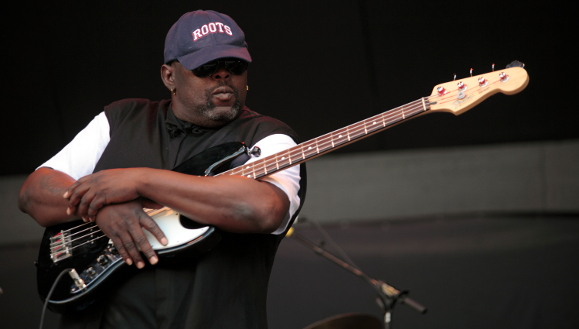 THE BEGINNING
What was your first music experience? Is it true that your brother Lloyd gave you your first acoustic guitar?
That acoustic guitar was always about. Anybody could come and pick it up and play it. My brother Lloyd, him and Maxie Romeo, Leroy Brown and Audley Rollins they sang as the Emotions. They would be rehearsing every day and there would be one or two acoustic guitars there so you could just join in. You know, you come every day, you loiter, take a spliff, you pick up a guitar and play – might be some poom poom or pom pom, might be right or it might be wrong but you just touch it and fuck around because you're not really playing anything because you can't really play nothing! (laughs) But then with Familyman, that's where it really started.
Read more…