The unwavering respect afforded to the veteran toaster Ewart Beckford AKA U-Roy is a testimony to his achievements in a music where you're only as good as your last tune. U-Roy is "the teacher"; "the originator"; the man from Jonestown who took talking over records from side show to main attraction – setting the wheels of steel in motion for the deejay-dominated Jamaican scene of today.
He had come up chanting on sounds like Dr Dickies Dynamic and Sir George Atomic in the 60s. He even deejayed for Coxsone Dodd's rig for a time but the impresario either didn't see the great man's talent or the potential of his trade. His recording debut came in 1969 for a producer who himself pushed the boundaries of traditional singing, Keith Hudson. It was via King Tubbys Home Town Hi Fi sound however, that his fame spread to Dodd's rival Duke Reid – creating a trio of deejay classics on rocksteady rhythms that in 1970 claimed the top three positions in the now reggae dominated charts.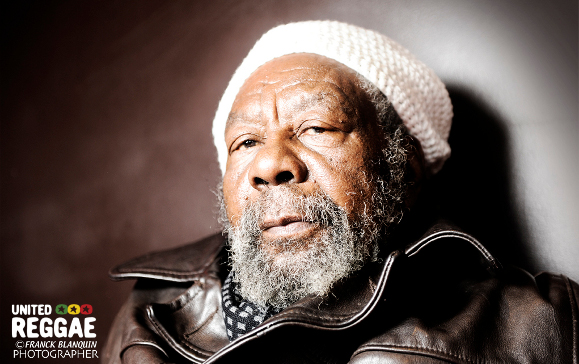 As the success of his jovial jive and flow gave rise to a cavalcade of followers and imitators – U-Roy pressed on with a roll call of producers including Alvin GG Ranglin, Niney The Observer, Glen Brown and Bunny Lee. In 1975 he signed with Virgin Records and released a series of Prince Tony produced albums that brought him to the attention of punks, rockers, and the international market. As reggae music has morphed and mutated over the decades, the love for U-Roy has endured – and he has continued to tour and entertain audiences around the world. In October 2012 he dropped his first album in six years 'Pray Fi Di People' – featuring his most diverse range of collaborators. Angus Taylor spoke to him on the road in France – and found a man who, while ever humble about his credentials, still has a few topics where he feels the need to set things straight.
Why did you decide it was time to Pray Fi Di People around the world?
(laughs) Because there is so much war and problems in this world today. I think we all need some blessings and some more love instead of war because war takes away people's lives. Seeing war in Iraq and war in Afghanistan and war in Cambodia – it's people just killing people. It's like, hey, why not just think and deal with something better? If you love someone you don't plan to hurt them – you know what I'm saying? But it's not a matter of saying "Hey, the people must hear what I say and they must do what I say". They don't have to listen to what I say.
Read more…