Read and listen on Reggaeville to part 2 [click here to read part 1] of our interview and music lesson with Chinna at his yard where he takes us from the end of the 1970s through to today.
When did your High Times label and band start?
High Times started from about 1980 and closed about 1996.
You did a lot of work with Freddie McGregor on High Times. And songs like Sergeant Brown, Mark of the Beast and I'm a Revolutionist showed a more militant side to him.
Ah, well, Freddie was a part of Soul Syndicate but Freddie was really into big success in a certain way. Which is a good thing. We'd be up on the road and Freddie would just live up on the road – him and the next brethren named Arnold Breckenridge and that was how he started to sing. So we were on the road with a great keyboard player named Leslie Butler and if you're a band and the commerce thing doesn't work a certain way maybe the guy wants a little bit more or he thinks there's more in it, so two brethren decided they were going home. So Leslie Butler said "They gone? Fully you sing, Tony you sing, Santa you sing, and Chinna you sing" so we did our album Was, Is and Always in maybe about '78. But we did a whole album with Freddie which we put out on vinyl named FM. Songs like Natural Collie, some cover songs.
You co-produced Mutabaruka's first album Check It in 1983.
The Mutabaruka album had a nice history to it. After Bob trod on, Jimmy Cliff came up with a concept of African Oneness and he had this programme for a show so he gathered all the Rastaman. For a while I thought he was almost dread too but he never got that tall. So he was bringing all houses. He gathered all the musicians from Kingston, Augustus Pablo was in the programme too and he gathered musicians and artists from his area. So during the audition we saw this brethren, Muta, from the hills, serious you know, trod ancient way, no shoes but very cultural. He came with this song, Every Time I Hear The Sound, and the song was a hit just from hearing it the first time. So I remember the Rastaman brethren named Planno – passed Jah bless his soul – said "Chinna, that's a good one. You should record it" and I said "Anything you say Planno I am going to do it!"
Is it true that you gave Frankie Paul his name?
Not his name, but in a way you could say that too. Because my brethren, a rude boy from the Garden, Barrington, from the west came and said "You see this little mad artist there?" So we started working upon him seriously and put him upon certain big stages and got him recording an album. We had him on a contract but he kind of got loose and all over the place. We just loved the youth and wish them could have stuck with the thing and maybe it could have been something else but still good came out of it because he became a renowned star globally so I guess it worked same way. It never worked the way we would have loved to see it work but it worked Jah way. And I have to give way for Jah way. (laughs)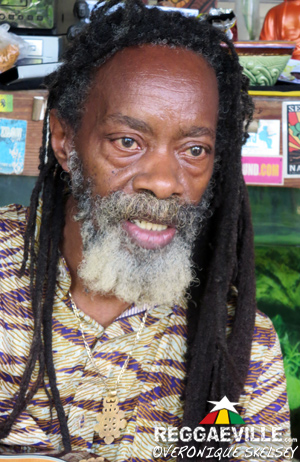 What did you think of the digital thing when it came in the mid 80s and the live bands got less work?
Everything right now is like a controlled system. Music used to have a freedom in itself where you have your vibes. Just like here. We are all nature's greatest miracle because no one is exactly the same so it's the uniqueness. Now with a digital concept you want to put everything into this little package and everything becomes one. You want to control the thing.
I remember years ago I was working on this album for Judy Mowatt with brother Sangie. You had a brethren from California named Skip Drinkwaterwho was the first guy that brought down this Linn Akai drum. When he came with this drum that he had to program to play. When the album finished the album name was Working Wonders and it was Grammy nominated and he came and worked wonders on the thing. After a while in the 80s the man would complain about the drummers and say they didn't play tight and get all drums with drum machine and from there they brought the virus into the thing.
They brought the virus into the thing because you don't know what they program. Because they make you stop to make their sound. They could just say "Get rid of reggae". Because it is a program they put in the thing. And that's what really went on because you'd see the music that started coming up – pure violence. Everybody kill, war, man sing tunes "Blood deh pon mi shoulder, Murderer!" and "Murder She Wrote" that everybody sings about and the gangster thing. Gangster, monster and all of the people the Killa, the Assassin and you have all the different tools come in, the Pliers, you have the Fenda, then you have the animals, the Tigers and the Elephants, the Cobras, everything.
Read more…