The uncomplicated sincere quality to Thomas' tones is entirely his own.
The late-70s-to-early-80s wave of Jamaican toasters who became producers have been back in the public ear lately. This year has seen new albums from Captain Sinbad and U-Brown (the latter featuring Ranking Joe).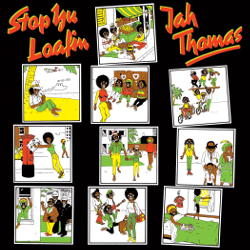 Jah Thomas – Stop Yu LoafinAnd now another of their number gets a CD reissue by Greensleeves. Nukruma "Jah" Thomas' 1978 set 'Stop Yu Loafin' was his debut and the first Greensleeves record to feature the iconic artwork of Tony McDermott.
Thomas was named after Kwame Nukruma – independent Ghana's "African Lenin". He blew up in '76 with the 45 Midnight Rock for producer Alvin GG Ranglin on the Things and Times rhythm – later taking the song's title for his own label. Following a ripple of success cutting albums at Channel One and King Tubbys he would produce hits for others including Greensleeves compilation staple Tristan Palma's 'Joker Smoker'. Some key productions were reissued by Greensleeves in 2008 as part three of their '12 inch Rulers series'.
Read more…