Almost one year after the passing of Lincoln "Sugar" Minott the sense of loss remains undimmed. The filling of the front room of the Hootananny (London, UK) for his tribute show just three days shy of the anniversary of his departure on July 10th 2010 was testimony to that.

Promoter Cecil Reuben's own sound JahRevelationMuzik, featuring MC Trooper and Brother Culture played a very serious selection – indicating that this was a unique event. They were followed by Mr Shorty, Daddy Ants and Colorman of Minott's Youth Promotion crew, who started with exclusive cuts by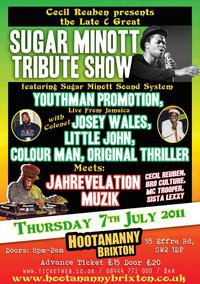 Michael Rose before letting fly with their fallen mentor's hits like Good Thing Going and Never Give Jah Up. Though the Hootananny was only sparsely attended at ten thirty when the "away" sound first took the stage, within an hour attendance had swelled and the back of the venue was opened to make room.
Read more…