After some lovers business with Chantelle Ernandez and the 'Love Directories' compilation, then roots and dub for his Gorilla rhythm, Curtis Lynch and his unstoppable deejaying machine Mr Williamz have returned to the sounds for which they're known best.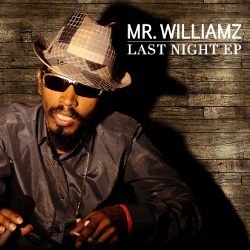 The five song EP 'Last Night' features the hypnotic style of Williamz atop some immortal bass-heavy backing tracks.
Topics include the joys of cash on Money Fi Spend (over the Real Rock). Shell Down is a sound burial combo with singer Clinton "Specialist" Moss (looping a phrase from the King Jammys classic Come Again by Cocoa Tea).
Read more…