With her stately regal demeanour and a cool aloof voice that recalls the smoky sophistication of Sade, Cape Verdean/Parisian reggae chanteuse Mo'Kalamity has been building a sizeable following in France. Her third album Freedom of the Soul, riding glossy, elegant yet fiery rhythms by her band the Wizards, suggests she is ready to step onto the wider world stage.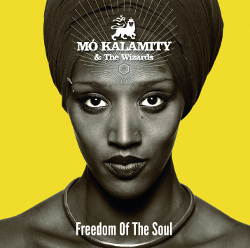 Jamaican poet and singer Jah9 has caused a splash last year with a stylistic blend she calls "jazz on dub". Mo'Kalamity and the Wizards could lay claim to being exponents of the same craft. Theirs is a hard, smooth roots music at home in both the bucolic festival environment of Garance or a sophisticated jazz or blues lounge in the heart of the city of lights. It is no accident that she and the band share billing: they are tight players who imbue each backing with shimmering wah guitars, crunchy clavinet, fluttering flutes and crisp rimshots.
Some European reggae groups sing in English to cross into broader markets – and some of these overreach their linguistic capabilities and degrade their messages. Not so Mo'Kalamity, who writes and performs in English by choice.
Her conceptual meditations on freedom, unity, community and culture are delivered in heavily accented but competent Anglais with a particular penchant for descending melismatic extensions of syllables containing "eeeeee" sounds (see opening manifesto Frontline). When she decides to use French it is with a purpose: addressing the people of France directly on Nuances – a plea that they live in harmony and ignore racists in their midst. Cima Vento, sung in Cape Verdean Kriolu, means the wind that moves the African diaspora around the globe.
Read more…