A muscular workout of a record: exuding a maturity that befits the group's lengthy recharge.
When United Reggae asked Morgan Heritage recently about the character of their first album in five years, lead-singer Peetah Morgan warned it would include fewer surprises than their rock-infused pre-hiatus statement 'Mission in Progress'. "I don't think anyone will be surprised" he answered "I think people will be fulfilled. There's a yearning for a certain thing so we couldn't just come leftfield and do something totally different from what people want". He and his brother Gramps described the then unreleased record, respectively, as "classic" and "authentic" in sound.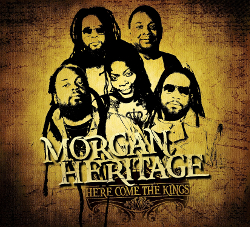 As signposted by last year's five track taster EP the Return, the Morgans' appraisal of 'Here Come The Kings' turns out to be bang on the money. Explosive opener Man Has Forgotten begins with Gramps' crying catchphrase "Rockaz" over a loop of the intro to Lloyd Parks' Officially, put to thunderous hip-hop beats by Kymani Marley's musical director Jason Farmer. It's immediately clear that timeless sounds rather than cheap heartstrings or risky genre-bending are at the fore.
Read more…