The sound of cold beers cracking open at a scorching summer roof party.

Mr Benn was a popular animated children's television character in the 1970s. Mr Benn is also the moniker of Bristol DJ and producer Ben Menter who has released his danceable debut album via Nice Up Records with the dead giveaway title 'Shake A Leg'.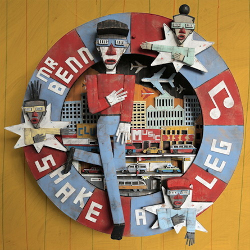 The Mr Benn character used to don fancy dress and travel back in time to faraway places. If this new Mr Benn had that chance he would probably visit the 1990s from whence much of his summery crushed blend of hip hop and sparse body shaking dancehall hails. But he also mixes in older and newer elements from other styles, drawing on roots reggae, Soca and wider Latin Caribbean music.
His production tools are fat basslines, thumping beats, scraping samples of guitar chops, live horns and assorted wobbles and bleeps. Across a trim eleven tracks he partners up with eleven mcs and vocalists from all over the world – including several from UK jungle lore.
As you'd expect from a professional DJ there are plenty of party tunes. The title piece is shamelessly catchy outdoor festival fare with Blackout JA in full Buju rockstone mode. Bristolian Eva Lazarus evokes a sweaty dance in detail with Pull It, while Panamanian born Chicago resident MC Zulu issues an ultimatum to "Work That" over Craig Crofton's honking sax. Legendary UK talker Topcat asks us to Do The Move with a melody line from Barrington Levy's Dances Are Changing – although the amount of singing and irrepressible galloping tempo might grate out of a clubbing context.
– See more at: http://unitedreggae.com/articles/n1402/071913/mr-benn-shake-a-leg#sthash.eicbIBGk.dpuf
Read more…