Scotland's Mungo's Hi Fi Sound are known worldwide for their distinctive post-industrial take on reggae and dancehall. Where many UK digital contemporaries were following the roots of Jah Shaka, it's easy to imagine them as young Glaswegians more intrigued by the computer sounds of say, Jammys. An audible influence on Mungo's Tom Tattershall's productions is clearly London's Unity Sound, run by Robert "Selector Ribs" Fearon in the mid to late 80s. And for Mungo's fourth long-format issuing, they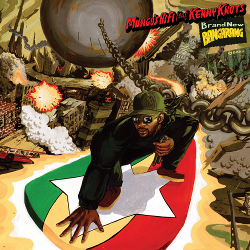 have teamed with one of Unity's microphone alumni and their own most crucial collaborators – Kenneth Wright AKA Kenny Knots – for a mini LP/extended EP where he takes centre stage.
Kenny and Mungos are like ackee and saltfish or De Niro and Scorsese. Moreover, Knots' thoughtful heartfelt lyrics and ability to put a song together are an antidote to younger, skilled but topically limited mcs talking clash and ganja on Mungo's third longplayer 'Forward Ever'.  Kenny is a versatile deejay-singer and socio-cultural commentator whose contributions to the Scots' second set 'Sound System Champions' stood out in the exalted company of the likes of Tippa Irie and Ranking Joe.
Read more…