The ambitious 12 day Respect Jamaica 50th celebrations at the Indigo2 got off to a wobbly start on Wednesday with the non show by Lee Scratch Perry – leaving a rammed venue very disappointed.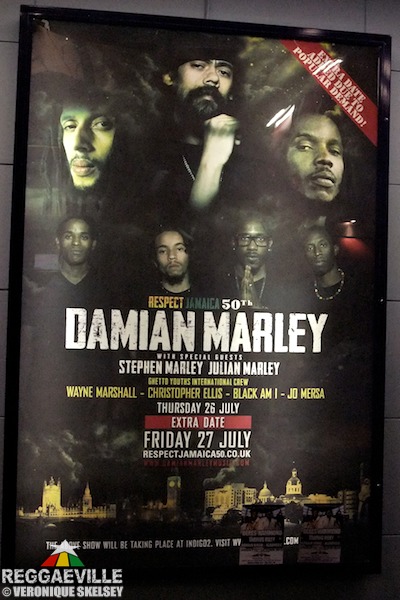 With rumours circulating of artist Visa quibbles, Respect Jamaica needed something special to recover its momentum. Fortunately Damian Marley, his brothers Stephen and Julian and the Ghetto Youths Crew for two nights (the second of which was witnessed by Reggaeville) is about as close to a sure thing, entertainment-wise, as can be obtained.
Unlike its big sister arena within the Millennium Dome, the 2400 capacity Indigo2 is pretty reliable sound-wise. It boasts clever quirks like a video screen outside the ladies in case of heavy queuing (not required this time as there was little heavy drinking in evidence). Despite Olympic military security scanning on entry, a long line for the door was processed quickly. Inside local soundmen, singers and mcs were moving in the throng, including Ras Lawi – who got a chance to shine opening for the ill-fated Scratch date.
Read more…