Day two of the Rototom Sunsplash festival's Reggae University programme turned the spotlight onto the contribution of powerful female voices and role models in the last 50 years of post Independence Jamaican music. Its guest speakers were three artists of different generations, two of whom – Marcia Griffiths and Etana -had shared a stage together at Rototom two years previously. Both ladies regally entered the university area to huge applause. Tanya Stephens, delayed by her soundcheck for her opening performance on the main stage that night, joined them fifteen minutes later, never taking off her shades.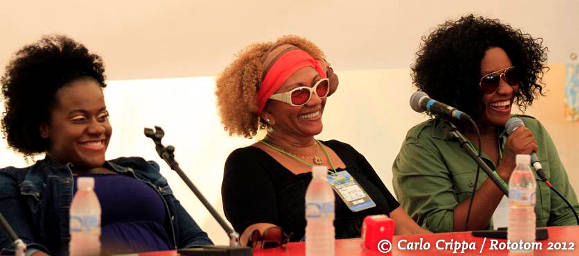 Riddim magazine's Pete Lilly introduced the session and his fellow panellists: the music journalists David Katz, Pier Tosi, and Riddim's editor-in-chief Ellen Koehlings.
Hailed as the "The queen of reggae" by Lilly, Marcia Griffiths has been a relentless force in reggae since she began singing in her teens, two years after independence. Where the other members of Bob Marley's I Threes; Rita Marley and Judy Mowatt have removed themselves from the daily grind of the music, Marcia still remains active, stylish and ever contemporary, working with dancehall artists like Busy Signal and Spragga Benz.
Read more…