A redemptive performance, overcoming sound issues early on.
44 years, and a few schisms and reconciliations since their inception, the intricate harmonies of the Abyssinians are a dependable experience live. So much so, that if anything does go awry at their concerts, it's not likely to be their fault.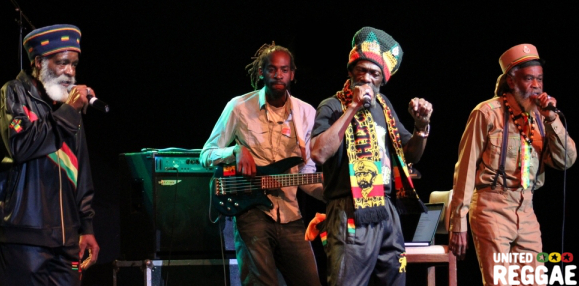 Bernard Collins, Donald Manning and third man in the room David Morrison struggled with sound level problems initially in their set at South London's aptly named, listed, Clapham Grand. Yet they powered on to deliver a redemptive performance – sweetened by their decision to re-play one of the blighted early favourites in the encore.
Such issues are common when reggae comes to all-purpose venues; only a minority of promotions bring in a name engineer like Nick Manasseh or Gussie P. And with a powerful solo vocalist these are easily ignored. Not so, the delicate blend of these Jamaican Rastafarians who were consistently disturbed by peals of feedback and low microphone levels through some of their best loved minor key material. During Blackman Strain Collins was literally sweating and straining to be heard.
Fortunately, by the mighty Yim Mas Gan the microphones were turned up and the keening squeals shut down. The trio's crystalline voices assumed their rightful place above the thundering basslines of Jahmel Ellison of the Rasites who lead the band.
Read more…