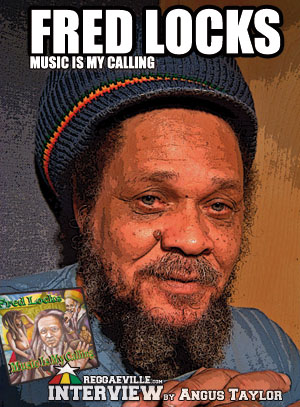 In part two of our interview with Fred Locks we discuss his time in England touring with Creation Steppers at the behest of legendary UK
soundman Lloydie Coxsone. We also hear of his migration to the USA, his return to Jamaica to work for Fatis Burrell and his new album Music Is My Calling out now…
How did you join Creation Steppers – was this happening concurrently with your solo career?
When I went solo and did my album a couple of people from 12 Tribes who were  playing on some of the songs like Ilawi [Albert Malawi] Pablove Black,  Bagga Walker and all those guys became a kind of 12 Tribes outfit. But  this guy I knew from England from a long time, Lloydie Coxsone, used to  come down to Jamaica into the area where I stayed. His brother used to  tell him about me but he used to say "No, Dennis Brown and Junior  Delgado I am interested in. It's name artists me a deal
with!" Then one  day he came down and said "You can sing Fred Locks. That tune you a do. I  want to carry you 'pon a tour". Of course, my producer Hugh Boothe was  totally against it because he had been planning with 12 Tribes people in  London to bring me on the first tour. But this wasn't near to coming  together at the time and I wanted to really go out and promote my songs.  I said "I'm an artist and someone wants to bring me to England to tour I  don't see why I have to wait. You're not my manager – you're just a  producer!" So a bad blood came between us in a small way.
Read more…